---
Aug 1, 2017 – MetLife Stadium – New York, NY
Aug 4, 2017 – Gillette Stadium – Boston, MA
Aug 6, 2017 – FedExField – Washington, DC
Aug 8, 2017 – Bell Centre – Montreal QC
Aug 9, 2017 – Bell Centre – Montreal QC
Aug 12, 2017 – US Bank Stadium – Minneapolis, MN
Aug 14, 2017 – CenturyLink Center – Omaha, NE
Aug 15, 2017 – Sprint Center – Kansas City, MO
Aug 17, 2017 – Soldier Field – Chicago, IL
Aug 19, 2017 – Quicken Loans Arena – Cleveland, OH
Aug 21, 2017 – Rogers Centre – Toronto, ON
Aug 22, 2017 – Rogers Centre – Toronto, ON
Aug 25, 2017 – NRG Stadium – Houston, TX
Aug 28, 2017 – Hard Rock Stadium – Miami, FL
Sep 23, 2017 – CenturyLink Field – Seattle, WA
Sep 26, 2017 – Rogers Place – Edmonton, AB
Sep 27, 2017 – Rogers Place – Edmonton, AB
Sep 29, 2017 – BC Place – Vancouver, BC
Oct 2, 2017 – Moda Center – Portland, OR
Oct 4, 2017 – Levi's Stadium – San Francisco, CA
Oct 6, 2017 – Rose Bowl – Los Angeles, CA
Oct 8, 2017 – Qualcomm Stadium – San Diego, CA USA
Coldplay A Head Full of Dreams tour is lighting up everyone with Xylobands. Xylobands are the original RGB LED wristbands for live events.
TLC Creative have worked with Coldplay since the 2002 debut of 'Clocks', with performances of live laser effects on the Jimmy Kimmel show premiere show taped live on Hollywood Blvd. TLC Creative creates laser shows, interactive glowballs, and all types of live special effects at Coldplay shows and events.
October 22, 2017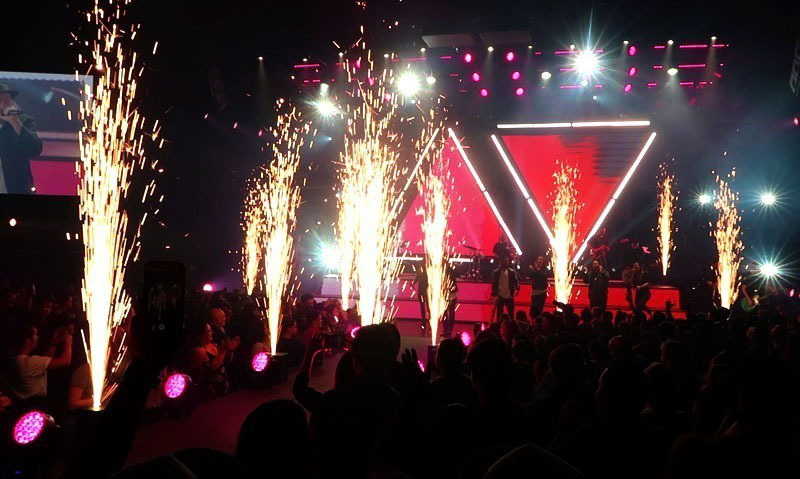 New technology white sparkle fountains are ready to energize your audiences! Brilliant bursts of sparks, fog, confetti, all add layers of thrill to crescendos and climaxes.
[…]