PYROTECHNIC EFFECTS & FIREWORKS
TLC creates indoor and outdoor pyrotechnic effects and custom fire, flame and pyro effects for any event or budget. Flame bursts, flame effects and fire effects energize audiences with dramatic surprise! TLC provides computer controlled stage pyro, and fireworks shows to soundtrack medleys that connects guests to the visual excitement.
---
---
White Sparkle Fountains Non-Pyro Effect
FLAME EFFECTS
Flames can be placed very close to talent and scenic elements. Curved Flame Bars can be used for reveals and attract attention.
STAGE GERBS
A spray of gold and silver sparks which reaches a height of 12 feet. It can be placed at close proximity to Products and Performing artists.
AIR BURST
A small device that is suspended in the air above a stage, which creates an effect that simulates outdoor aerial fireworks shells. Airbursts do not produce hazardous debris.
CURTAIN EFFECT or 'WATER FALL'
Similar to a Gerb effect. These are held in place upside down in rows of several pieces from stage trussing. The multiple devices fire simultaneously, creating a downward shower or sparkly "water fall" of sparks. Most often seen outdoors, this effect can be performed indoors safely in some situations.
---
FOUNTAINS
A constant narrow column of white sparks. Can be mounted on the floor or suspended to create a waterfall effect. There are 6 burn times available: 4 seconds; 6 seconds; 8 seconds; 10 seconds; 15 seconds; and 20 seconds.
SAXONS
Spinning pyrotechnic effects.
MINES
Rarely used in indoor pyrotechnics, a Mine is a preload device that projects multiple pellets of pyrotechnic material (Often called 'Stars') that produce colored flames or sparks.
CONCUSSION EFFECTS
A pyrotechnic effect that produces a loud jarring shock for dramatic effect.
January 12, 2019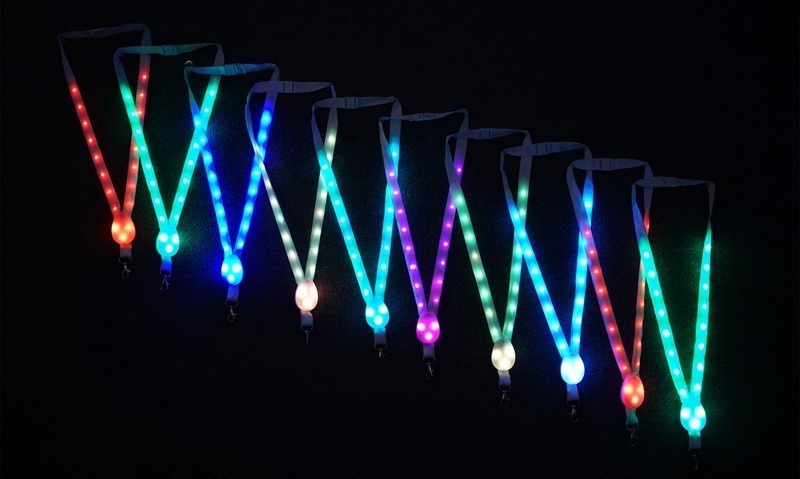 Connect your guests with the power of light!  Xyloband Lanyards create synchronized, immersive experiences that create energy and excitement at all kinds of events. Motivational
[…]